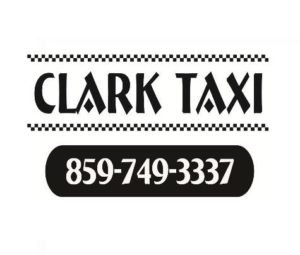 Serving Winchester, KY And Clark County
For on-time affordable taxis in Winchester and Clark County KY call 859-749-3337.
To learn more about Clark Taxi visit Cab Information
Business Type: Taxi Service
Address
120 North Main Street #4423
Winchester, KY 40391
Hours: 

Sunday – 4:00 am – 10:00 pm
Monday – 4:00 am – 10:00 pm
Tuesday – 4:00 am – 10:00 pm
Wednesday – 4:00 am – 10:00 pm
Thursday – 4:00 am – 10:00 pm
Friday – 4:00 am – 10:00 pm
Saturday – 4:00 am – 10:00 pm
Twitter: https://twitter.com/ClarkTaxiRides
Phone: (859) 749-3337
On-Time Affordable Rides Serving Winchester and Clark County, KY.
Maybe you prefer to not own a vehicle, or maybe yours is broken down. Whatever the situation may be, you are not stranded! You can still get to work, school, doctors appointments or anywhere else you need to go. You are not stuck anywhere. Give Clark Taxi a call at (859) 749-3337.
Reliable and on-time.
Affordable rates.
Pay cash if you prefer.
Major credit cards accepted in car.
You can get to other towns, not just Winchester. We offer rides to the Blue Grass Airport, Greyhound Bus Station, Hamburg Pavilion, Fayette Mall, UK, and other areas in Lexington. We frequently take people to Paris, Mt. Sterling, Richmond, Clay City, and Stanton. Other popular destinations include Fort Boonesborough, Red River Gorge, and The Barnyard Venue.
Let us know where you need to go at (859) 749-3337.